March 04, 2023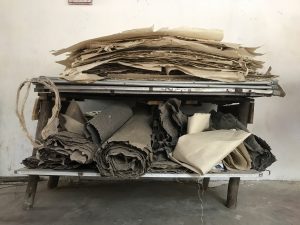 by Nikki Culley
"Every dream has the right to live" – Mahasweta Devi, writer and trustee of Adivasi Academy
Holi Hai! Residency DAY THREE: The day was heating up as we arrived at Adivasi Academy mid morning. Sandhya Gajjar, founder and trustee of Bhasha Research and Publication Centre – of which the academy is one department – welcomed us and showed us around the academy's museum of tribal artefacts (named Vacha, which means 'voice').
The centre was founded in 1996 with the purpose of understanding why the languages of tribal indigenous communities were disappearing. Today, the centre has grown into other research areas and the academy (Adivasi is the name for the original indigenous communities) supports people in tribal communities in different areas of India, to have a voice over land rights, access healthcare and education and learn skills to make a living, for example, making banana paper.
It was a chance for the photographers on the residency to take some still life photographs of hand made items such as flutes, cooking utensils and terracotta ornaments. Artists also learned the process of making banana paper and will be bringing sheets home to print onto for exhibition.
Sandhya Gajjar, founder and trustee, said: "We needed a base in a tribal community to do the work we needed. We employ people from tribal communities and everything we do is for them and what they want."
After lunch, we headed out to Chota Udepur, where we were immersed in busy markets and huge colourful crowds of dancing and playing music with drums and flutes to begin the Holi celebrations.