May 07, 2022
About Project
For our 'Darley Swifts' project we have been working with a group of YR5/6 students at Walter Evans Primary School, Derby, to create a mosaic arts-trail in response to the declining population of Swifts in Britain. Focusing on the area of Darley Park, the students have been exploring conservation ideas and issues, and immersing themselves in nature, as well as developing skills in collaboration, creativity and critical thinking. 
We have been planning this project alongside our professional artist Nicki Dennett, Cllr Alison Martin who is the local party Councillor for Darley Ward and David Winslow Community Parks Officer.
Artist, Nicki Dennett has facilitated sessions alongside Artcore at the school, and the students have been learning about the lives of Swifts and the importance of conservation. A representative from Derbyshire Wildlife Trust and the Derbyshire Swift Conservation Project, Mick Hardwick, introduced the students to Swifts and the issues they are facing with an engaging and inspiring presentation. The students also explored Darley Park, observing the habitats for all wildlife and, inspired by the work of Andy Goldsworthy, they created their own miniature Land Art with natural 'found' materials. 
Outcomes
The students consolidated their experiences and learning into meaningful outcomes, each creating their own unique mosaic. They are very proud of these beautiful artworks!
We will continue to support wildlife in Derby and Derbyshire and raise awareness through creative projects and use local resources within our community.

"I am thrilled to see the wonderful mosaics created for the Darley Park swift trail by pupils at Walter Evans School. The children have done a grand job with them and, in the process, have been able to explore the importance of maintaining biodiversity by learning about the plight of swifts, one of our summer visitors.
Swift numbers have been declining rapidly since the 1950s, and dramatically so in the recent years. There are several reasons for this, not least the loss of nesting sites owing to current building practices and also the declining number of flying insects, their food.
The trail of mosaics is lovely to see.  I hope it will serve to remind park visitors of the significance of this wonderful bird in our skies and encourage them to take what action they can to help them thrive, perhaps by mounting a swift nesting box or creating garden areas favourable to insects.
Thank you to ArtCore for organizing this project and to the staff at Walter Evans for agreeing to get involved – so many school children are keen to learn about the environment and wildlife. In these mosaics, they have shown how creative they are, too."
Councillor Alison Martin
Darley Ward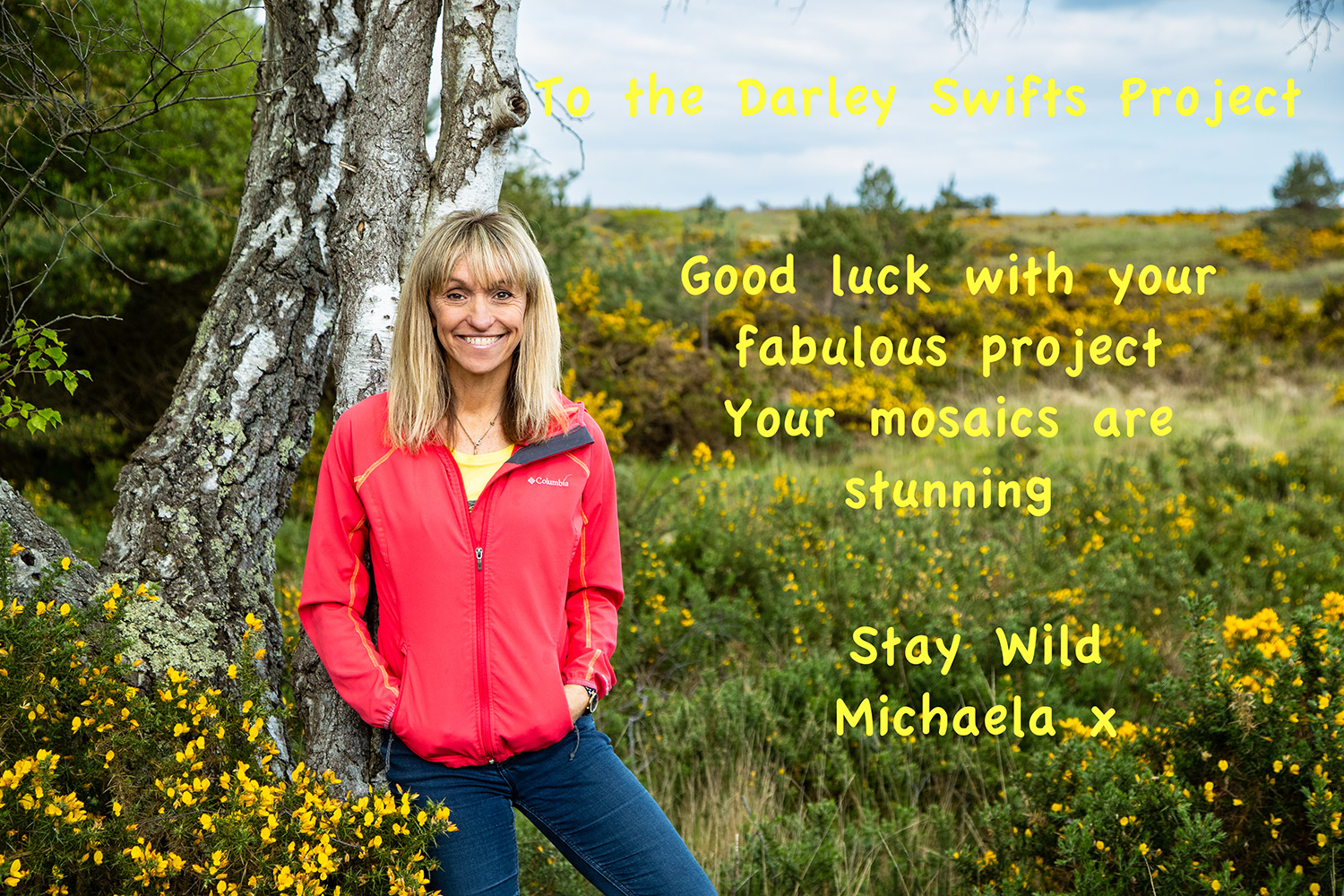 Michaela Strachan
BBC Spring Watch Wildlife TV Presenter
It's wonderful to know about projects like this and I hope all the children really enjoyed it. Its brilliant, and there can never be enough support for swifts!
All the best, and big congratulations for the projects,
Megan McCubbin
BBC Spring Watch Wildlife TV Presenter
"The Darley Swifts Mosaic project is a superb way to bring these amazing birds to everyone's attention. The swift, like so much of our wildlife, is in peril and we need to install special swift nest boxes wherever possible and as soon as possible.
Congratulations all round from the Derbyshire Swift Conservation Project."
Nick Brown
Derbyshire Swift Conservation Project supported by Derbyshire Wildlife Trust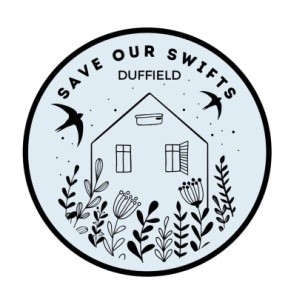 Save Our Swifts (Duffield)
Being a positive influence for change
Our youth have captured an image of our declining environment, changing climate and are doing something about it! The pupils of Walter Evans school have been involved with a project to highlight the plight of the swift species having heard of the shocking statistics; some of it directly linked to our inadvertent, human activity.
The British Trust of Ornithology (BTO) has stated that we have lost more than 56% of these birds over the past 25 years. Part of the issues facing these birds are the lack of flying insects to keep hatchlings hydrated during our ever warmer summers, the loss of breeding habitat as well as issues along the migration route.
Without intimidating the pupils, they wanted to be part of the solution to turn the tide of the decline and have decided that an education and an awareness campaign might be the best way to get the message across. Since the breeding season is so short for these birds they rely on our buildings to rear a successful brood. There artworks are the result of loads of planning and dedication by numbers of people who are committed to be a positive influence. If you intend renovating your roof or providing a new build or an extension please consider installing swift bricks or next best, some nesting boxes before the works begin.
Should you wish to find out more contact: sosduffield@gmail.com
Mick Hardwick
Derbyshire Swift Conservation Project
The Darley Swift mosaic trail was created, by year 5/6 students from Walter Evans Primary school in Darley Abbey, to raise awareness of the decline in the Swift population at Darley park as well as other places in the UK. The decline is due to a number of factors including nesting places filled in by new building work, a decline in the insects they eat and weather.
The mosaics were created by the children with the help of Artcore. Each child made a mosaic each over six two hour sessions at their school. From creating a fact file, drawing, designing and then placing and adhering the tiles onto the paper. The mosaics were taken back to Artcore to be set into cement ready for installation at the park in June 2023.
The Children at Walter Evans School engaged really well with the project and work very hard to complete their designs. There was a lot of team work towards the end where pupils who had finished helped those with more complex designs. The end result exceeded our expectations. Thankyou to all the children who worked on the project and we hope the mosaics  are available view in Darley park for many years to come.
We would love it if people were more aware of what can be done in the future to protect this beautiful bird. More information on what we can do to help the Swifts, such as how to build a swift bird box, can be found at web sites such as www.swift-conservation.org.
"As an artist who works regularly with children as well as adults this has to be the most outstanding outcome of any projects I have worked on.
Thankyou to all the children who worked on the project and we all hope the beautiful mosaics are available view in Darley park for many years to come."
Nicki Dennett
Artist