March 04, 2023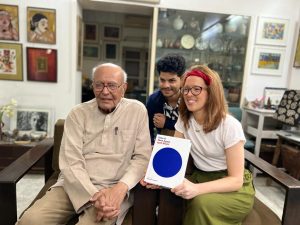 by Nikki Culley
Holi Hai! Residency DAY ONE: We walked through a white painted gate into a tiled front patio with rows of plants in terracotta pots. Hung to the right of the front door was a large metal sculpture depicting the repeated 'head' motif that documentary photographer JYOTI BHATT has become known for, set against a green background.
We were welcomed through the hallway and into the lounge where Bhatt was sitting in front of a large glass cabinet full of ceramics, many of which had been made by his late wife Jyotsna Bhatt. Every wall was full of art.
Bhatt took us through his more recently published documentary work in book Time and Time Again. The photographs that make up this work were taken by Bhatt from the 60s to the 90s and document tribal communities across rural areas of India. He said: "There were lots of people taking photographs of more known things like the Taj Mahal but I wanted to photograph these communities that were not given as much importance".
Bhatt spoke about the difficulty in sourcing film at that time, often having to smuggle it into India and using mostly black and white as it was easier and cheaper to get hold of.
There is also a raft of notebooks that Bhatt kept during this period – which have been archived as part of the work – that contain detailed notes as well as small sketches of repeated symbols he came across in the tribal communities such as the peacock and a 'magic square'.
Artists met with Bhatt as part of the Holi Hai! Residency currently running in the Gujarat region of India. It is a collaboration between Artcore Gallery and Format Festival. Work made will be shown in the spring.