March 09, 2023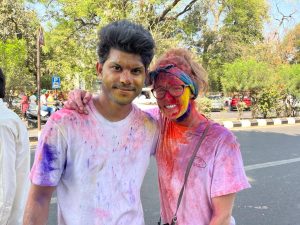 Holi Hai! Residency DAY 7
By Masood Sarwer
There is nothing more peaceful than waking up to peacocks calls. We all packed our bags and sat in the car to attend the Holi celebration in Vadodara.
We crossed forests, open landscapes and farm
fields and sunlight kept flickering through my window as I gazed and was lost in the memories of celebrating Holi during my childhood days. I kept wondering if I was going to play Holi or not, roads bent, the steering of the car turned and the roads merged as if it was an endless sky of light hue blue morning where the yellow crown was being put slowly.
We reached Vadodara and found a large group alongside the road celebrating Holi with speakers where Hindi songs were being played to the loudest.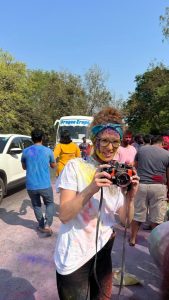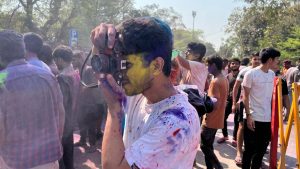 Every age group crowd was there, throwing colours in the air, dancing to their fullest and putting colours to each other. We quickly jumped into the celebration with our own packets of colours.
The first colour I was being put on my face was yellow and soon the yellow colour got overlapped with many different shades of colours. As if someone was colouring the peacock feathers on me. The peacock which I kept on seeing from the dusty window of my car and hearing the late midnight peacock calls during the full moon.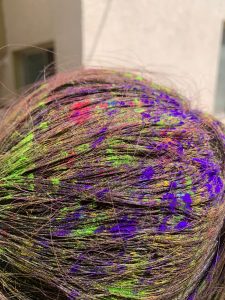 It has been decades since I have played Holi! Coincidentally our whole group wore white dresses and t-shirts.
By the end of Holi, we all got painted on our white t-shirt canvas which we talked about on our way back that we are going to frame those white shirts as a memory.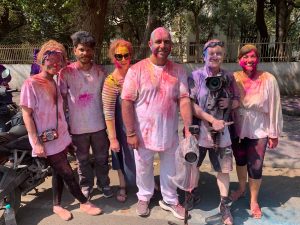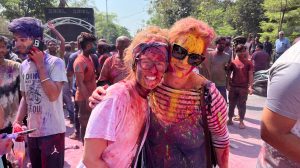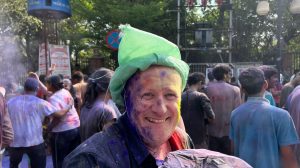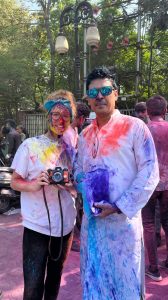 Now again we were back on the road, we are now going to a local fair in Moti Ambrol village, near Pavi-Jetpur for Chul no Melo. We sat in our cars and took naps as the mid-afternoon sun blazed through the passing farm fields.
We saw women walking with their children as we were about to reach the fair. Women holding the sugarcane sticks and children colourful balloons.
The fair was full of colours, women wearing colourful sarees and traditional ornaments. Many women were selling sugarcane sticks too. We saw groups of people coming in autorickshaws to the fairs. Many women also sold clothes, jewellery and shoes too in the fair.
The fair was encircled by long-standing trees, some men were in turbans and some were in colourful shirts with plain pants. We saw colourful ice cream on the hands of girls who were wearing colourful bangles on their hands.
People from different places gather at the Chul fair. The Chul fair is not just about shopping and entertainment but it is also associated with some religious beliefs too.
During this fair large pieces (coals) of acacia wood are burnt from which embers are made. And the tribal people then walk barefoot on those embers.
We saw drums being played as people continued to shop in the fair.
The day was colourful!