March 08, 2023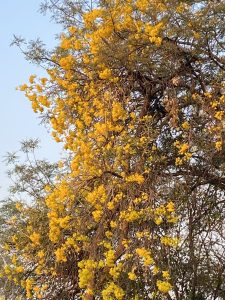 The day started by walking through the narrow alleyways of the corn field, crushing the newborn grass as my gaze was locked on the faded sky with no birds in the sky. The only way to find the bird at this time of the day was to see the high branches of long-standing trees and sometimes you can spot sparrows in between the dried bush which stands like an art installation nearby to the farm fields.

I walked crossing the wheat fields which were in their adults encircled by the mango trees on one side. I saw colourful sarees tied up in the fields guarding the crops.
With a surprise I found a feather lying on yellow withered leaves as if a ripple finds its shore when a boat passes through the still waters.
The afternoon was in solitude, the farmers working on fields have gone back to their shades.
The evening knocked on our doors with a storm as I packed my bags to leave around night to see the bonfire.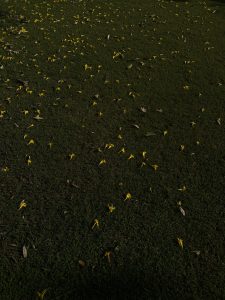 Metaphorically though, the bonfire is meant to signify the destruction of evil – the burning of the 'Holika' – a mythological character and the triumph of good as symbolised by Prahlad.
The next day after Holika Dahan is called Dhuleti when play with colours actually takes place.
The rain sprinkled as we drove through the narrow mud paths with our car headlamps on during the night to see the bonfire. The rain stopped after a few minutes. We stepped down and walked through a field with our torches.
We saw people taking circles around the unfired sticks which stood like a heap of broken branches before it was lit to fire with coconut being thrown in between the pauses of breath.
The breath which was held and the gaze was locked to the colour of fire which was also can be seen from far-fetched fields where the new seeds were being sown and stood together on the half-wet soil of rain.
Writing and photographs
by, Masood Sarwer