September 22, 2023
The first week of the residency involved visiting Derby to meet the Artcore Team and being shown the two sites they have, I had never been to Artcore before, so it was good to see the gallery at Albert Street and then the space at Charnwood street where we will be working for the next 7 weeks of the residency.
On arrival into Derby I noticed a G-clamp set into the railings outside the train station – which peaked my interest. I am fascinated by tools and objects that were designed to assist or support the body, materials or making in some way.
I visited the Museum of Making and enjoyed exploring their 'assemblage' area on the top floor – looking out for any objects I was drawn to, or to see if there was any information on the 'G' clamp. I found a wooden 'brace' in the assemblage collection, and the gift shop had an incidental ode to the G clamp using them as book ends.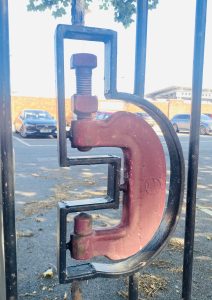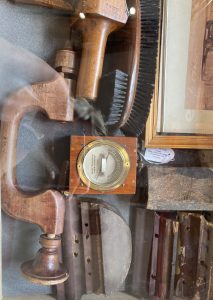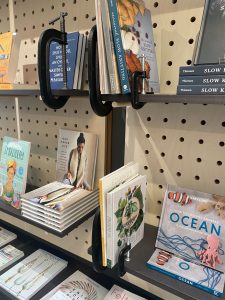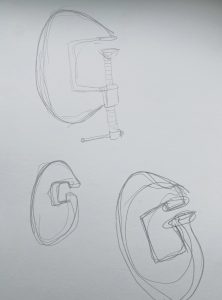 In my proposal for the residency I gave a title for which I wanted to work to:
Exploring space and place, the bodily relationships and materiality of the locality through object making and performances to camera
I intend to continue my interest in re-creating and subverting the practicality and function of certain objects through their recreation in clay/ceramic, allowing an interrogation of form and function as well as an exploration into uses and associated actions and movements.  The G-clamp, as an assistive tool that has been developed for a practical and supportive relationship to both the human body and materials, and how they hold or brace things for and during the process of making will form the starting point and underlying thread to the residency.